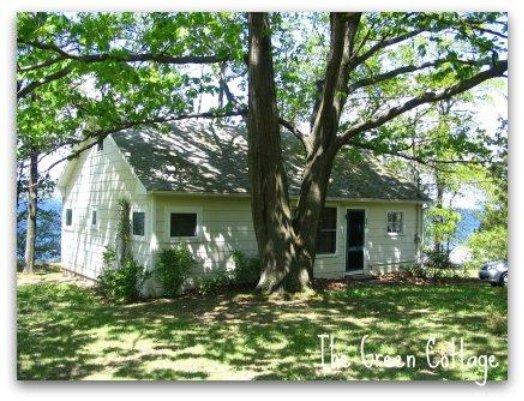 Looking for a secluded lakeside getaway? Welcome to the Green Cottage.

This quiet, charming, 1950s-era cottage has large screened-in porch, 150 feet of private waterfront, and sleeps up to four people. It's the perfect antidote to busy beaches and crowded campsites.
On the east side of
Seneca Lake
in the heart of New York's scenic
Finger Lakes
area, the cottage sits up on the bank, in the dappled shade of hundred-year-old oak trees and furnishes exquisite views of the lake and spectacular sunsets. It is beautifully decorated and fully furnished, with large living and dining areas as well as 2 bedrooms, bathroom with shower, and a spacious kitchen. The large screened-in porch is ideal for enjoying a lake-view meal or a peaceful afternoon nap.
It's a minute's walk from the cottage door to our waterfront area, which features a long stony beach lined with trees. The gradual slope of the lake bottom makes it suitable for swimmers of all ages and Seneca Lake's clear, cool waters provide a refreshing dip on those hot summer days. The deepest of the Finger Lakes, Seneca offers rainbow and lake trout as well as bass and perch. If you're lucky, you could catch something right off the end of the dock.